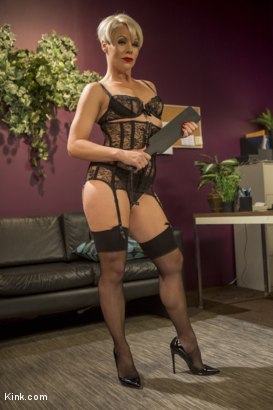 Год производства: 2018 г.
Страна: USA
Жанр: BDSM, Bondage, Domination, Femdom, Lingerie, Ball Gag, Stockings, Dildo, Vibrator
Продолжительность: 00:37:32
Студия: KINK
В ролях: Helena Locke, Ana Foxxx
Описание: In Episode Four of Hush... Helena Locke in HR finds herself in the middle of this entire game, continuing from Episode Three. After a quick phone call where she shushes Cherry over her concerns about Bella and her incriminating photos, she welcomes Ana Foxxx, the VP of Marketing into her office for a one-on-one meeting. Ana's stressed out in her new job, and is looking for a little R&R with Helena. Helena gags her and ties her up and rolls her onto the floor, setting into her with some hot ass spanking and dives face-first into her wet hungry pussy. While Ana is virtually helpless, Helena then takes her own liberties, sliding her fingers inside her tight cunt, then sitting on her face and smothering her while she eats her pussy. Ana loses herself more and more as Helena uses her for her own desires. She cums on Ana's face with a vibrator, then paddles her and fucks her with a dick on a stick. Ana cums intensely hard as Helena power fucks her with that tool, slamming it into her with rapid ferocity. Ultimately, Ana's stress is relieved, but she knows it won't be gone for long. Clearly, another executive session will soon be in order...
Тип HD видео: 720p
Качество видео: HDRip
Формат видео: MP4
Видео: Video: MPEG4 Video (H264) 1280x720 29.97fps 4969kbps
Аудио: Audio: AAC 44100Hz stereo 125kbps